國際的參與 International Involvement
聯合國的認同
2009年11月10日聯合國全體成員一致通過列曼德拉日為正式國際日。聯合國大會決議如下:
– 確認曼德拉長期以來在非洲爭取解放和非洲團結的鬥爭中的領導作用、他對這一鬥爭的支持和對建立一個不分種族、無性別歧視和民主的南非所作的傑出貢獻;
– 確認曼德拉在解決沖突、種族關系、促進和保護人權、和解、兩性平等、兒童和其他弱勢群體的權利以及改善窮困和不發達社區狀況等領域,作為人道主義者所具有的價值觀和為人類服務的奉獻精神;
– 認納爾遜·曼德拉對國際上爭取民主的鬥爭以及在世界各地促進和平文化方面所作的貢獻;
– 歡迎納爾遜·曼德拉基金會和各相關組織發起國際運動,每年以他的生日7月18 日作為曼德拉日。
2011年3月28日,聯合國資訊中心副總監 Helene Hoedl 於國際曼德拉日的啟動儀式中發表演說以讚揚曼德拉先生為人類帶來的貢獻。(按此閱讀演講詞-只限英語)。
這標誌了全球一致認同曼德拉先生的工作,我們亦希望國際間能有更多人獻身參與各項善事。曼德拉日是一個有關人道主義行動的年度國際性倡議活動,目的是藉慶祝曼德拉先生一生的貢獻,從而鼓勵每一個人踏出一小步去承傳他的工作、去改變世界。
曼德拉日並不是關於要創造巨大的基建,它是一個全球性運動,旨在鼓勵大眾作出小小的行動並為社區帶來正面的改變。這行動可以是發起一個提倡和平的行動,又或是簡單如與鄰居分享食物。曼德拉日並不是一個假期,而是一個希望各人能主動參與社區事務,共同努力營造美好世界。
曼德拉先生令我們知道,「我們的一雙手」能創造更美好的世界。藉著曼德拉先生給我們的啟發,我們應該對自己及別人付上應有的責任。
我們亦衷心感激南非政府令到這一切變成一個國際承認的決議。
UNITED NATIONS
Mandela Day has been officially adopted by the United Nations as "Nelson Mandela International Day". The resolution was unanimously adopted on November 10, 2009, with the support of all UN member states and co-sponsorship of over 165 members, from all regions of the world. This represents the overwhelming support of the entire international community in honouring Mr Mandela. We hope this signals the beginning of greater involvement by the global community in this movement for good.
Read the speech made by Helene Hoedl, Deputy Director of the UN Information Centre, which she gave at the launch of Nelson Mandela International Day on March 28, 2011.
Mandela Day is an annual international day of humanitarian action in celebration of Mr Mandela's life and legacy. It serves as a catalyst for each and every person to realise that they have the ability to change the world through action.
It is not about creating institutions with huge infrastructure, but it is a global movement for good which recognizes that positive change begins with small actions. These actions can range from a vision for creating peace and reconciliation to sharing food with a neighbour in need. Mandela Day is particularly geared towards people doing work in their communities and is not event-driven. It is not a holiday.
As Mr Mandela has reminded us, "It's in our hands" to create a better world. We take inspiration from his example to take responsibility for ourselves and to understand our responsibility to others.
We would like to express our gratitude to the South African government for its efforts in making this international resolution possible.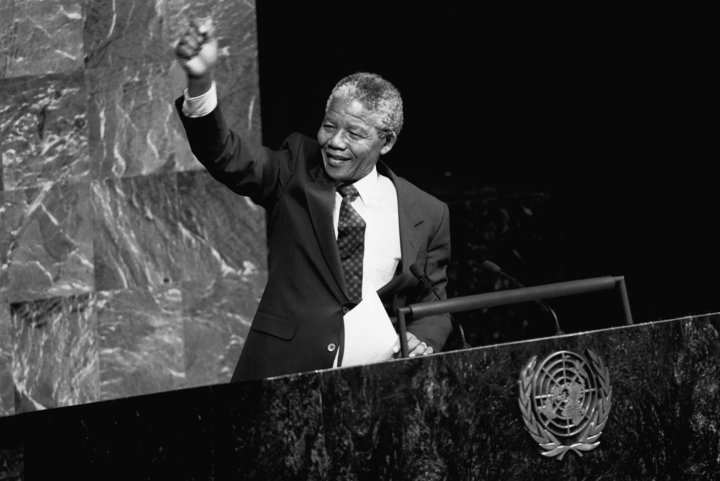 Photo:http://www.facebook.com/mandelaintlday