1. 結交一位新朋友。通過認識一位與自己本身文化背景不同的人,由認識去化解偏執及對外國人的無理仇視或畏懼。
Make a new friend. Get to know someone from a different cultural background. Only through mutual understanding can we rid our communities of intolerance and xenophobia.
2. 為盲人朗讀。拜訪一個鄰近的盲人中心並為他們打開一個新世界。
Read to someone who can't. Visit a local home for the blind and open up a new world for someone else.
3.為家居鄰近地區的道路修補洞坑。
Fix the potholes in your street or neighbourhood.
4. 幫助鄰近的動物庇護所。沒有家的狗隻也需要散步及一點點愛。
Help out at the local animal shelter. Dogs without homes still need a walk and a bit of love.
5. 了解鄰近的圖書館是否有閱讀時間並給予支持把故事朗讀給有需要人士。
Find out from your local library if it has a story hour and offer to read during it.
6. 協助鄰近的長者,如他們未能駕駛或步行,協助他們購買日用品。
Offer to take an elderly neighbour who can't drive to do their shopping/chores.
7. 在自己居住的地方組織垃圾清理日。
Organise a litter cleanup day in your area.
8. 組織一個小組, 每人編織一個正方並把它們縫起來造成一張毛毯再轉送給有需要人士。
Get a group of people to each knit a square and make a blanket for someone in need.
9. 義務協助本地警察局或本地信仰組織。
Volunteer at your police station or local faith-based organisation.
10.獻出你的技能!
Donate your skills!
11. 如果你懂得建築或維修,協助他人改善你們的住屋吧!
If you're a builder, help build or improve someone's home.
12. 協助有需要的人發展事業。
Help someone to get his/her business off the ground.
13. 協助有需要人士或一個你希望支持的慈善工作編寫網頁。
Build a website for someone who needs one, or for a cause you think needs the support.
14. 協助他人就業。如幫助組織及打印個人履歷表或協助他們改善面試技巧。
Help someone get a job. Put together and print a CV for them, or help them with their interview skills.
15. 如你的專業是律師,義務協助一些值得幫助的慈善工作及人物。
If you're a lawyer, do some pro bono work for a worthwhile cause or person.
16. 寫信給就近你居住地方的議會議員,要求他們去跟進一些你未能解決但需要跟進的社區問題。
Write to your area councillor about a problem in the area that requires attention, which you, in your personal capacity, are unable to attend to.
17. 贊助一些學生去劇院或是動物員,讓他們認識更多。
Sponsor a group of learners to go to the theatre/zoo.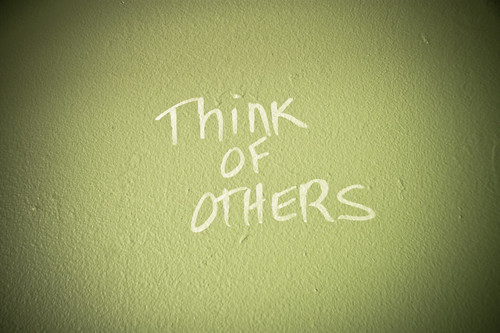 Photo credit: regansravings.blogspot.com